August 12th, 2012
---
10:20 pm - Checking in.


Hey LJ pals. How have you been? I moved over to Tumblr a couple of years ago, but today marks five years since Mike Wieringo passed, and it made me think about how much this community meant to me and how many friends I made here. Made me want to check in. Hope you're all doing super great! :)

January 7th, 2010
---
03:37 am - Print Sale!
Hi Internets,
You may have noticed a significant decline in output from me over the last 6 months, as most of my sites and projects are on indefinite hiatus. This is because it has been a rough year (not just for me, I know).
I'm spending these early days of Twenty Ten catching up on commissions, pinups, and coloring gigs that have fallen by the wayside over the last few years while I dealt with some health and financial troubles. As I complete these overdue commitments, I'm not going to be taking on any new gigs, so to keep the bills paid, I'll be selling these high-quality 8 x 10" prints for $25 each plus $5 shipped in the U.S. (The shipping price only applies once for purchases of multiple prints, email for info on international orders.)
If you have any interest in my work or in the possibility of owning one of these pieces, please contact me or PayPal me directly at deantrippe(at)gmail.com, just include in the comments section which of the prints you'd like and if you'd like them personalized. Thanks so much.

Dynamic Duo

The Girl Wonder

Supergirl

Superman

World's Finest

Mary Marvel

JLA

Superman & Lois
Thanks.
November 10th, 2009
---
01:06 am - Farewell to Dry Pond.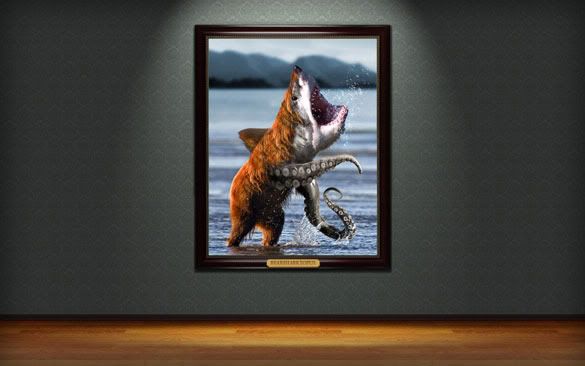 As a writer/artist/colorist (etc.) in comics, I feel an odd kinship with the tragically noble tribrid depicted above, the Bearsharktopus, so I have adopted him as my new spirit animal and branded my new blog accordingly.
This post marks the beginning of my transition from LiveJournal to Tumblr. See you there.
October 28th, 2009
---
September 25th, 2009
---
10:40 pm - Superman
September 15th, 2009
---
06:31 am - Blackest Night Cereal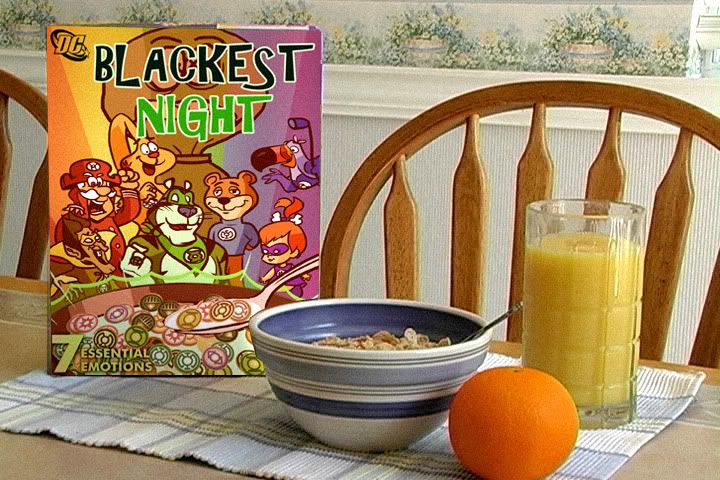 A part of this complete breakfast.



August 27th, 2009
---
August 1st, 2009
---
06:22 pm - SDCC 2009 Trippe Report


Wednesday / Day One

I left Nashville on no sleep with two flights full of kids to remind me of the son I was leaving for a month and nerds to prepare me for where I was headed. The first day in San Diego was all shuttles and hotels, trying to get my two crews coordinated as their flights arrived. Jemma Salume and I found 7/11 and planned more donuts and Slurpee runs than actually happened. Eventually, we had Team Awesome: Jemma, Ming Doyle, Jessi Reid, and Jason Horn all together with my old SCAD posse, Andrew Pearson, Brian Muelhaupt, and Pedro Coelho. We hit preview night briefly before grabbing dinner (Royal Thai) and drinks (the Hilton) with Tim Callahan and TV's Ryan Callahan. I hit it off with TVRC pretty well, and we made plans for me to stay with him while I'd be in L.A. Back at the hotel, sleeping conditions were tight, but we managed to make it to Day Two.




Thursday / Day Two

The first full day of the show began with my crew leaving without me. I got there in time to draw a Manhunter sketch for Marc Andreyko and catch the Geoff Johns's spotlight panel, which rocked. I drew Superboy and Robin. Geoff gave me a hug(!) and showed me some of Francis Manapul's original art. Team Awesome continued to apologize for abandoning me that morning, one day after my superheroic team assembling and coordinating efforts. I met up with a bunch of cool folks from DC (Alex Segura of The Source!) and saw a lot of friends. Not being tied to a table, I actually saw most of the show floor by the end of the week. I met up with the Oni guys and talked about stuff we can work on this year. After the show, we hit the Hyatt for the BOOM! Party, where I introduced Jessi to her new BFF Mark Waid and failed to get Ming and myself into the Jennifer's Body party. I got to talk to Mark about Superman and Irredeemable, and he vowed to introduce Jessi to Gail Simone later in the week.




Friday / Day Three

Day Three of Comic-Con began with burgers and ended with arm-wrestling. Jessi and I grabbed some food before heading to the show, where I drew a few sketches and hung out at the DC booth. I ran into Paul Levitz and related the now year-old story of our first meeting standing in precisely the same spot. I introduced myself to Greg Rucka and Matthew Southworth. I met Jessi's Catwomanly pal Meghan Campbell and introduced them to the very awesome Dustin Nguyen. After a failed and cramped dinner at Toscana, we headed back for the Eisners. CBT editor Rantz Hoseley got us a table. Jessi and I had last minute invites to the rooftop Oni/UTA/EA party, so we ducked out briefly to go get changed and head off to that.Once Jessi was inside the Oni party and I'd successfully explained to Zachary Quinto that he had indeed nailed his performance as Spock, I raced (read: ran seven blocks) back to the Eisners just in time to see Rantz accept our award for Best Anthology. Jason and I couldn't stop lauging. My friends Art Baltazar, Franco, Matt Fraction, and Eleanor Davis also won, and I got to talk to the super cool Katie Mignola before walking back to the Oni party with Gina Gagliano from First Second. Back at the Oni party, an impromptu arm-wrestling tournament broke out with Chris Schweizer taking top prize. We met up with our pals at the Hyatt later and took MySpace pics with Sterling Gates.




Saturday / Day Four

We briefly ran into Gail Simone, Sonia Choi, and Geoff Johns and skipped a panel I wanted to see to go with Tim Callahan and Jason Aaron to the CBR boat. It was pretty cool. We talked comics and Tim and I took our picture with the CBR Eisner we figure was mostly won due to our exceptional contributions to the site. We briefly left the show to go check in at the Westin, where most of Team Awesome would stay the rest of the week. We skipped dinner in favor of meeting up with pals a the Hyatt, which later prover detrimental to our partying, but but we got to hang out with Benito Cereno and Nate Bellegarde and talk to Geoff Johns and James Robinson, who commissioned me to draw a LOT of characters. Cory Walker is officially my hero, and Jessi and Jason are the best friends I've ever had.




Sunday / Day Five

Woke up late, still hungry from skipping dinner. Jessi came back from the show to get her Superwoman costume, so I became her assistant for the day, carrying her purse and phone while con attendees took her picture. It was pretty cool hanging out with a superhero for the last day of the show. Just before leaving, we saw the most offensive cosplayers I'd ever seen, Silk Spectre and Comedian rape scene re-enacters from Watchmen. We were too stunned to say anything, but wow we were mad. Jason, Jemma, Jessi, and I chilled out at the room for a bit before grabbing dinner at this excellent Irish pub on Fourth. We had Fish and Chips, and kept yelling FASHION CHAPS! It was the best night of the show by a mile. My college pals met up with us, and we stopped into the Chuck Jones gallery on the way back to the Hyatt, which was mostly showing off canvas prints of Jim Lee and Alex Ross works. It was pretty rad. Back at the Hyatt, Benito, Nate, and I talked about a DC project we want to do and I said hey to Mr. Robert Kirkman. The week was catching up with us, so we headed back to the hotel and watched the Rifftrax for The Room and fell asleep.




Monday / Post-SDCC Day One

I woke up to find Jason gone already, with Jessi and Jemma packing. I said goodbye to Jessi, whose flight was at the same time as my last oh-so-nervous-making meeting of the con. I ran two blocks the US Grant, and had a meeting that was so awesome, Jemma took me out for celebratory Slurpees and Indian food at Horton Plaza. We listened to Mos Def off my phone and high-fived frequently. I said bye to Jemma and she left to catch her flight. I packed up the room and started trying to figure out a way to get to Los Angeles. It turned out my pal and L.A. resident Jamie Galey was still in town so I checked out and caught a taxi to the cool little villa he was staying at with his family. We drew jam comics with Tyler Hutchison, Davario, Frank and Becky, and ate breakfast for dinner. We talked awesome comics (Morrison/Johns) for hours outside. Tim Callahan's con report endorsing my crew and others like us hit the interwebs, rocking our socks and warming our hearts.




Thanks so much to my many friends and handful of fans who managed to catch up with me at the show. It was definitely a week to remember. I'm now in Los Angeles, on another leg of this West Coast adventure, still trying to find my way in this business. I feel almost unbearably fortunate to have so many people who believe I can do this. :)

P.S. I've got a lot more pics from the show over on my Flickr set.



June 25th, 2009
---
05:31 pm - Batman & Robin will never die!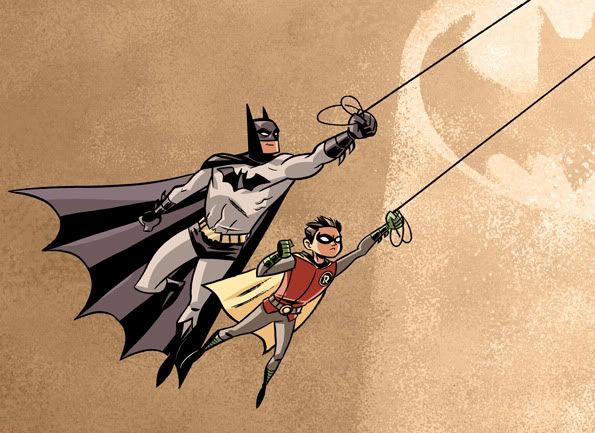 Gotta love the new Dynamic Duo, huh? I drew a bunch of sketches of the new Robin, Damian Wayne, at HeroesCon last weekend (photo report here), but here's the pair.

And, here's the wallpaper.



(

Process shots...Collapse

)


Btw, if you're wanting more frequent updates from me, I'm updating Twitter and a Facebook fan page far more often than my LJ right now.

June 14th, 2009
---
11:45 pm - Field's 1st Birthday!
Field's 1st Birthday!
Originally uploaded by dryponder.

We had a small birthday party for my son "Field" tonight in Nashville. We'll be having a bigger party with family in Georgia later this month, but today was his actual birthday. I seriously cannot believe it's been a whole year since he stopped being imaginary and actually showed up here in the real world.

Thanks to Agnes Barton-Sabo for making this incredible cake! And to Brett Williams,
newjason , and Kathryn for the awesome funtimes and presents! Field loooved the cake, I ate waaay too much pizza and now I'm tired.

Anyway, more pics from tonight over on my Flickr site. :)