June 27th, 2007
---
10:52 pm -

Butterfly in New York: Mocca Report 2007!


Butterfly and I headed up to New York this past weekend for MoCCA, and we had a BLAST. I took a bunch of photos since it was Butterfly's first convention. Our trip to MoCCA and this report were sponsored by the cIndyCenter.com Podcast, which I'll be appearing on later this week!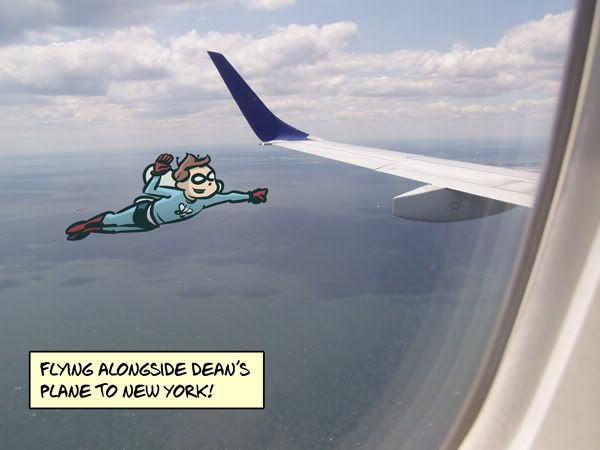 Butterfly kept up with my plane just to make sure I landed at JFK safe and sound.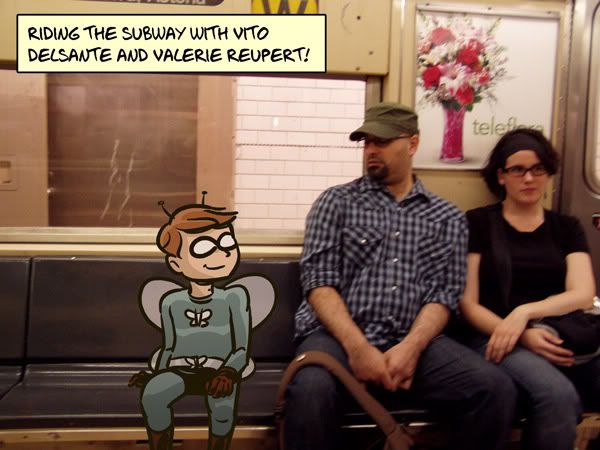 Butterfly and I stayed with (and rode the subway a lot) with
incogvito and
eeriemusic. There was a lot of comics brainstorming, a fair bit of Guitar Heroing, and a few hours of shut eye.



Awesomely, our first night in New York included a stop in at the Rocketship comics shop, which was having a sweet art show/party.
ben_boxer was super-psyched to finally meet Butterfly in person! At the party, I also got a great warm welcome to New York in the form of a
man_size hug from Dean Haspiel!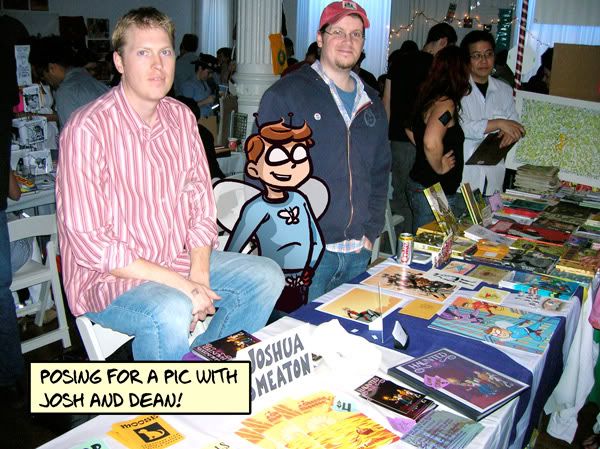 The next day at the show, we sat with the talented and amiable
joshuasmeaton. We had a great spot, and a ton of cool folks came by (like Steve Flack and Mike Zagari!), including the crazy-talented journal comicker
reidsrow, who took this pic for us. (Check out his drawing of me at the show over here!)



Butterfly was way excited to meet
mildmannered, a talented comicker, and longtime internet pal. I think Sara and I talked about the awesomeness of Batman and Robin for about an hour...and then another hour later at Spring Street Natural.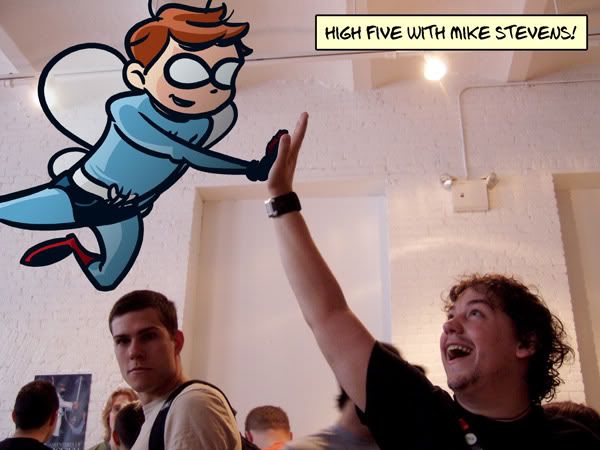 New Yorker
blindmole stopped by! I hadn't seen Mike in person for nearly two years, and it was his first time meeting Butterfly.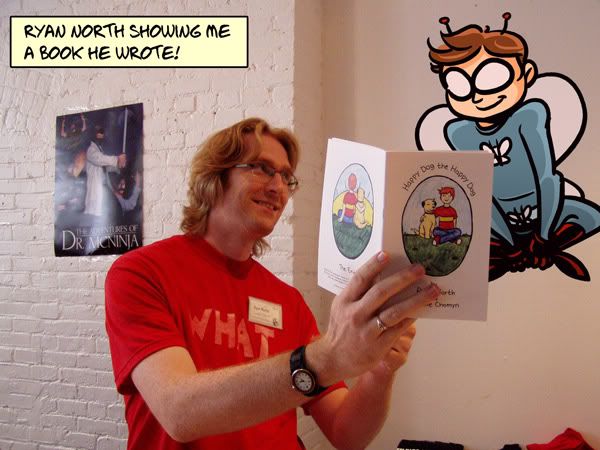 Butterfly made the rounds while I was stuck at the table, starting with the ever-awesome
qwantz, who had plenty of cool stuff to sell.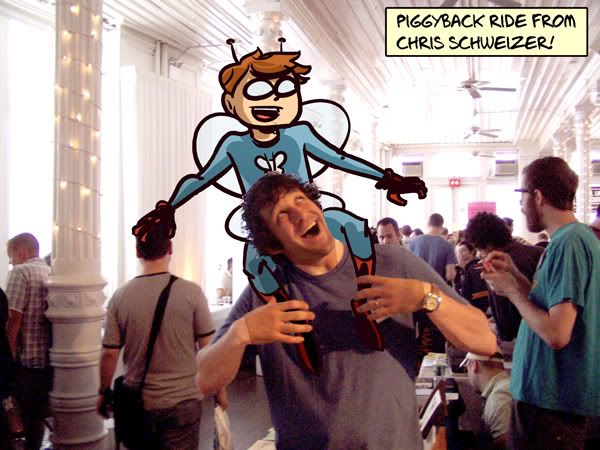 Up on the 7th floor, we ran into SCAD Atlanta grad student Chris Schweizer who I've been hanging out with along the con circuit this year. Keep an eye on this dude. (Chris did a drawing of me at the show over here!)



We also got to stop by and hang out with
goraina and
yaytime. Raina had cards for her next Baby-sitter's Club GN, and Dave sold out of the new Lifemeter 2 books!



It's always cool to see
hopelarson and
detroyerzooey! Butterfly was a little starstruck by the hyper-talented pair.



Lilli Carré was at the show! She and I were in that cool You Ain't No Dancer anthology a while back.



It was really cool to catch up with
soggytoast and
quezzie, who besides being awesome indie comickers, help helm the Lifemeter project!



Comics rockstar
lizgreenfield, who'd first put the bug in my ear to make it up to MoCCA, was there classing up the joint. She and Butterfly spent some time looking through all the awesome GNs at the First Second table. I got a chance to talk with Gina Gagliano ("First Second marketing whiz and MoCCA librarian") a few times during the show, and I can't say enough nice things about her.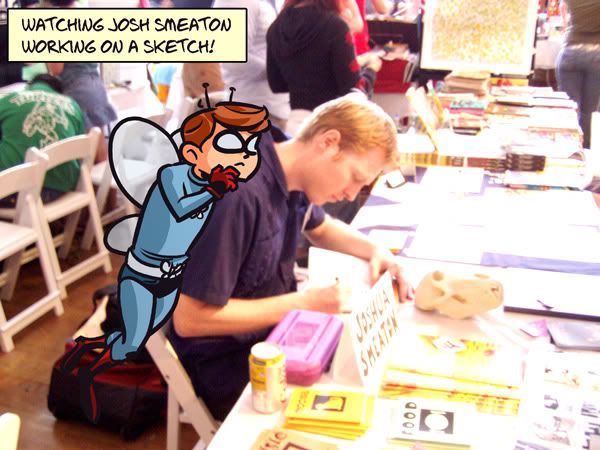 Back at our table, Butterfly picked up some drawing pointers watching Josh work on con sketches.



Super-sweet
marionv stopped by the table and traded me a homemade chocolate chip scone for my comic! Comics for food = unbeatable deal!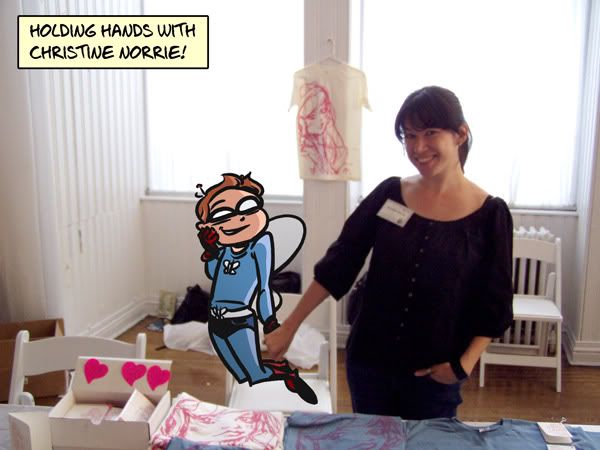 Oh man, I'm a crazy fan of
spookoo's work, so it was way cool to finally meet her in person! Haha, this might be the first time I've seen Butterfly hold hands with a girl!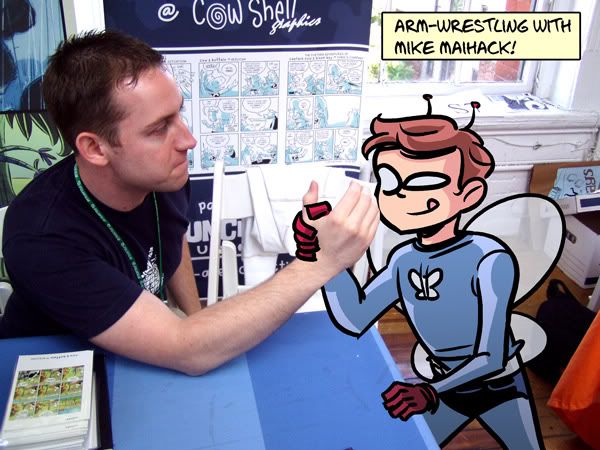 Butterfly couldn't pass up a chance to take on famed arm-wrestling champ, and webcomicker
mr_cow.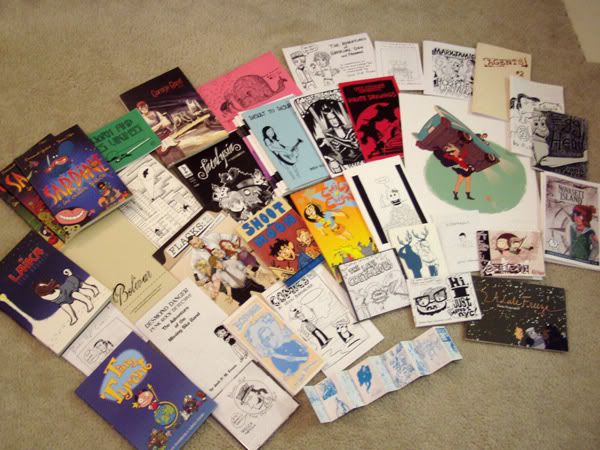 And no trip report is complete without a shot of THE HAUL! I'm just starting to chip away at this giant chunk of comics. I came away with seven new GNs (a few from the First Second folks, and one really cool-looking book from David Hopkins), a ton of new minicomics, and one really nice print by Joe Quinones.


Whew! Well, besides the cool festival stuff, we also made it over to the Top Shelf 10th Anniversary party on Saturday, went out for pizza with
mattbayne and some folks, and stopped by the Spring Street Natural party, where I got to meet
daltonwebb,
tobycraig, and
silentkimbly. I even let Raina, Gina, and Sara read my very first mini-comic, Angel-X, which I drew when I was fifteen.

It was really cool getting to catch up with
bertozzi and the rest of the NYC ACT-I-VATE crew. I got to chat with my pals
joel_priddy and
finkenstein for just a sec, though I wish I could've hung out with them more. It was also really cool to meet
joshpm in person! I also had a great time hanging out at Jim Hanley's Universe with Vito and Harry, and I ALWAYS love kicking around New York. Thanks to all the folks that stopped by our table and made the trip worth it!

UPDATE! Here's a few more shots from the show! :D





Joe Quinones needed a hand with a column near his table on Sunday. Good thing Butterfly was there to lend a hand.


wigu was kicking around the show, and Butterfly and Jeff hit it off pretty fast.



Butterfly and I really enjoyed getting to chat with Chris Hastings and Carly Monardo, who were sitting across from us. Butterfly even broke out his trademark '5' visual effect.



Oh man, there was a good turn out of young comics fans at the show, but Alexa Kitchen was probably the youngest comics CREATOR attending!



Oh man, it was awesome finally meeting
finkenstein and Eric F.!

---